Michelin Power 3 Rear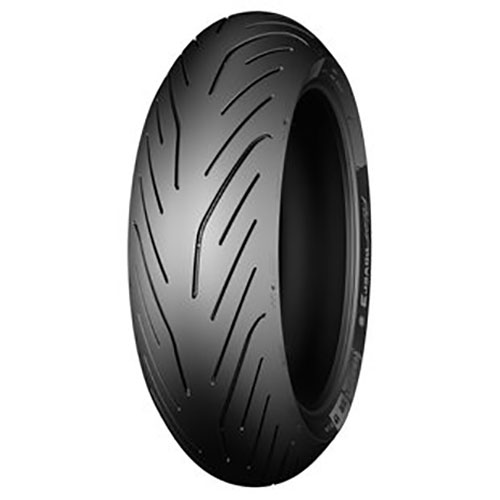 Michelin Pilot Power 3
---
Enhanced riding performance
- 2CT+ on rear tire enhances tread rigidity and cornering stability: Extends harder compound underneath the softer shoulder compound for added cornering stability – especially when accelerating out of turns
- Casing profile optimized for excellent feedback and handling
Confidence in both wet and dry conditions
- All-new compounds for maximum wet grip: more than 4.5 seconds per lap faster on a wet track than MICHELIN® Pilot® Power 2CT tires*
- Semi slick tread design maximizes contact patch for excellent dry grip: more than 4 seconds faster on a dry track than MICHELIN® Pilot® Power 2CT tires*
Excellent longevity
- 20% more tread life vs. MICHELIN® Pilot® Power 2CT tires*
Why choose the MICHELIN Pilot Power 3?
Improved longevity
Featuring SBR technology (styrene-butadiene rubber), the MICHELIN Pilot Power 3 ensures maximum grip on damp surfaces, all the while providing 20% more longevity than the MICHELIN Pilot Power 2CT1.
Braking on wet surfaces
Tested on wet asphalt, the MICHELIN Pilot Power 3 demonstrates excellent aptitude when it comes to wet surface grip, thus providing for excellent braking.
Grip and maneuverability
Maximum contact for a flawless dry grip and excellent responsiveness: that's the commitment of the MICHELIN Pilot Power 3, thanks to its optimized profile and rubber made especially for sport bikes and roadsters.
Michelin always aims to bring together multiple performances.
At MICHELIN, we never work on one isolated element of performance. Instead, we focus on the whole package: safety, durability and the thrill of riding… all at the same time and with no trade-offs. That's what we mean by MICHELIN
®
Total Performance™, which has and will always be our difference on every tyre.